This has been circulating on SFTwitter. Please pass this around to anyone you know in SF.
Chris Mendes
Chris,
Have you had any contact with members of this group? Know what they've been doing, or if they're still active? I just visited their site and sent them a message. Unfortunately they don't have a phone number listed. If they have local members, it would be good to connect with them. Do you know what ended up happening with the petition?
Love & Liberty,
((( starchild )))
(415) 573-7997
Begging electeds, flying high living on your stolen tax dollars, to reverse policies they themselves created through months of inbred nefarious consultations & other taxpayer funded communications, is embarrassingly sophomoric.
What would you propose differently? The next LPSF meeting is on June 9th. Will you be attending?
Keep me on the list…I'm kind of "out of touch"
Dear Chris,
Thanks for the reminder ( I am usually busy or out of the loop, aside from being out of town ) I may attend — if only to promote & potentially boost turnout for the "libertarian" body•mask optional/#BareAsYouDare Historic Annual/Seasonal International Summer Classic #WorldNakedBikeRide #WNBR #WNBRsf2022 on Saturday 11 June.
A "letter" from You/SFLP to Burgermeisterin Breed @LondonBreed @SFMayorsOffice @sfgov & Board Prez Shamann Walton @shamannwalton @sfbos their merry corrupt corporate compromised @sfbos henchmen/women on lifting the BODY•MASK mandates/protocols would be very timely & possibly impactful since We will AGAIN be bringing this parade|PROTEST|celebration to the very door steps of their GUN-ARMED POLICE PROTECTED HQ on 11 June as with all #WNBRsf2022 events this year. These SF Dems ( aka #TheTemps ) get away with the specious counterfactual delusional farce that they are the most liberal (?) unbigoted (?) just (?) noble (?) unprejudiced (?) progressive (?) socially sensitive (?) humane (?) group of electeds ever to walk the face of the Earth, when they are in deed, even more tyrannical & oppressive than the oft-deamonized hopelessly mi·sog·y·nis·tic hierarchy of the Vatican / Papacy / Catholic Church / @Pontifex JPII et al on its brilliant cutting-edge principled reasonable humanistic scientific & holy longstanding decree doctrine policy credo on PUBLIC NUDISM.
Since #TheTemps, national & local ( reportedly featuring Kamala & Pelosi — & hordes of national msmSnews media ), will be having another vapid clownish stunt coming up on Wednesday 1 June, for the Pink Triangle Lighting at Twin Peaks, We might be able to physically put You/SFLP directly into their hands, if not those of their staff along with Our own Nudist handouts — mainly for press media promotion ( since beating a dead horse is futile ).
If You have time, in Your busy schedule, I'd appreciate a "letter" from the SFLP Leadership on this matter just for the record. ( I could help draft it if You'd like. ) though I tremendously appreciate the 5 May 2022 note|endorsement|promotion to the twitterverse.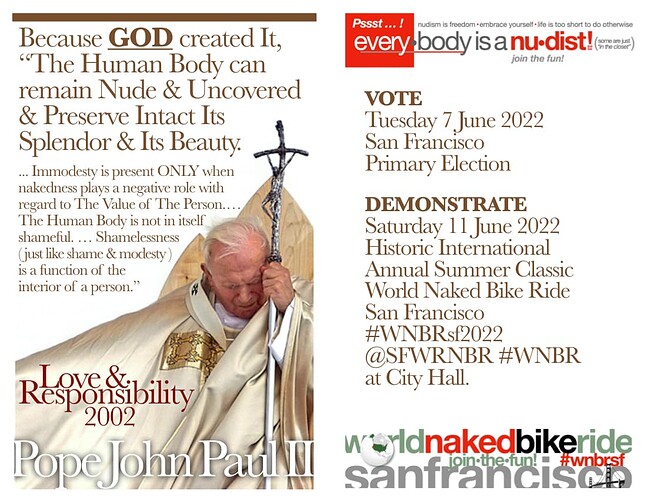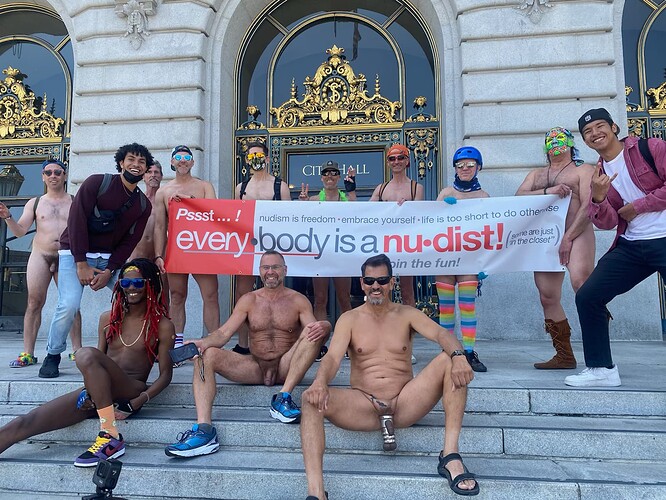 Warmly,
— Marty
Dear CD,
I do not plan to attend.
Warm regards, Michael
Michael R. Edelstein, Ph.D.
Clinical Psychologist
415-673-2848 (24/7)
Co-author of Three Minute Therapy http://www.threeminutetherapy.com/
with David Ramsay Steele, Ph.D.
Features help for anxiety, depression,
relationships, panic attacks, addiction
···

On May 23, 2022, at 9:06 PM, CDMendes via LPSF Forum noreply@forum.lpsf.org wrote:

CDMendes <https://forum.lpsf.org/u/cdmendes>         


May 24
What would you propose differently? The next LPSF meeting is on June 9th. Will you be attending?

Visit Topic https://forum.lpsf.org/t/sf-citizen-petition-to-london-breed/21634/4 or reply to this email to respond.

To unsubscribe from these emails, click here https://forum.lpsf.org/email/unsubscribe/c9da73b17e37e7cc5ffd71703892b571079993185f6df987681510b98e5e0d4a.
If you were forwarded this email and want to subscribe, click here https://forum.lpsf.org/signup.
Hi Marty,
Please help to draft something. Meetings are every second weekend of the month.
Chris
Is someone going to update the SFLP web site with the current party leadership info since the last officers election?
Updated! (No pics yet.) Thanks for the reminder.
Is it THAT challenging for the competent new SFLP Leadership to take selfies to post immediately? Or are they waiting to budget dollars on professional photographers & glamour photo shoots? ( I'm not arguing against the latter if they are well done & transparently & competitively priced. )