The #WNBRsf2022 #EarthDay 12pm/Noon Start, Saturday 23 April, Rincon "Cupid's Arrow" Park, The Embarcadero & Folsom Street — is a fun parade / protest / "celebration" ( of at least minimal liberties we have left ) as a part of the global internationally renown #WNBR events taking place in cosmopolitan & capital cities around the World this year.
There will be an AfterParty! in the Castro area where the Ride terminates around 4pm ( until / if it gets too chilly to stand around in the buff ).
The Route/Map for SUNNY Saturday 23 April is below.
There will be a few more #BareAsYouDare #WNBRsf2022 parade•protest•celebrations this year which SF, Bay Area, & Northern California Libertarians, have participated in in the past, & are always free & welcome to #JoinTheFun! — with full body•masks or not — in the spirit of revolutionary "empire destroying" jewish/christian prophet #IsaiahXX2.
For those Libertarians who pay any attention to Tommy Salmons, at the The Libertarian Institute / @LibertarianInst, "Faith Liberty & Praxis," this is a Praxis event in action ( not just dreary dreamy virtual esoteric chitchat ).
If any Libertarian believes that the #USgovt has any authority in criminalizing our peaceful behavior or God-Blessed Pro•Creative/JOY organs, … … Well, I have a couple pieces of paper archived in the #USgovt National Archives I'd like to hear them read aloud for themselves.
None of the

USA

#WNBRS are technically "legal," few if any obtain municipal permits but rely on cover from the #BillOfRights & stand/ride/roll firmly on the #1stAmendement & critical masses that obtain more protection & traffic enforcement/marshaling from local Popo than any specious tyrannical suppression.
Full Body/Frontal Nudity is NOT illegal during numerous seasonal/annual/historic events throughout the year in San Francisco.

, thankfully ( See attachments ). There are a lot folks perpetuating misinformation out there that undermines the truth, liberty, freedom & progress & harms local businesses owners who do not discriminate between Nudists & closeted nudists but happily serve & take Nudists' $$$ which, diminished in value as they are, remain equal in value to those from any closeted-nudist. Even most friendly ( Castro & Haight mainly ) Popo @SFPD hate even responding to vicious cowardly bigoted harassing complaints by those who have no legal or ethical legs to stand on regarding the exercise of our local Liberty & Rights ( per My hero Jake at the FFF )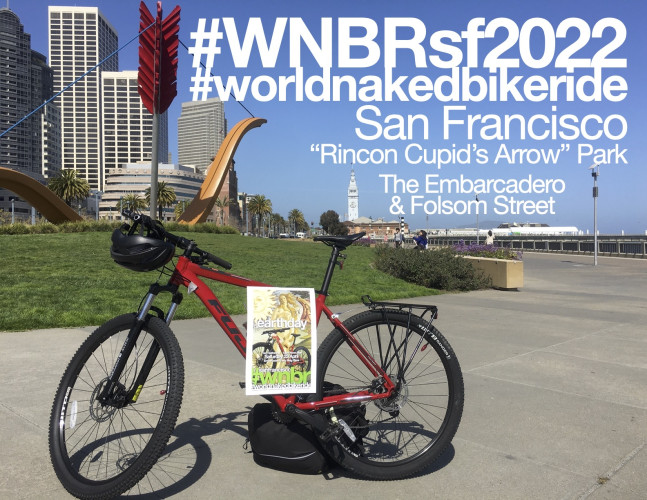 DRAFT MAP: Final Route to be published in the next couple days.